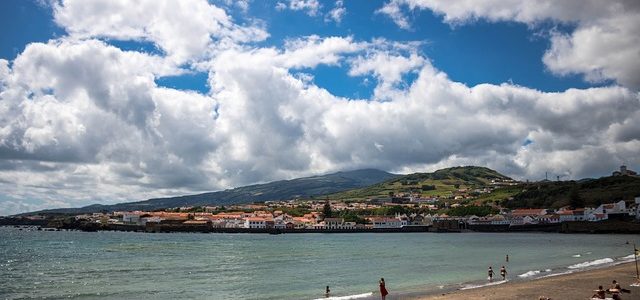 The most popular beaches in the Azores
The Azores are a group of islands that are a spectacle when it comes to the power of nature. The nine islands of volcanic origin are full of surprises for the visitor and no two are alike in terms of natural features. You will find extraordinary plant and flower species on the islands, while the animal world is only represented on a small scale. The islands all have numerous natural lakes that have formed over time in the craters of volcanoes. The two main islands, Sao Miguel and Terceira, have great beaches and natural sites, as well as places of historical importance. There are also several tea plantations on the islands, which can be visited. The interesting town of Angra do Heroismo has interesting architecture consisting of low buildings and is also a UNESCO World Heritage Site. The small island of Santa Maria with its many clear and beautiful beaches is a paradise for bathers and naturists and is very popular with holidaymakers from near and far.
Beautiful beaches make a stay a real pleasure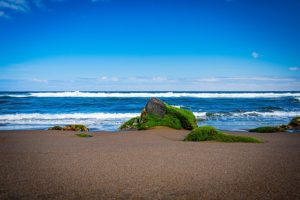 The Azores in Portugal offer just the right thing for anyone who loves the sea.
Santa Barbara beach in Sao Miguel is one of the most beautiful and also most popular beaches in this archipelago and is a paradise for lovers of water sports. It is one of the largest beaches in the Azores and has shiny golden sand, which also makes for favourable wind conditions. As the beach is very wide, it is the perfect place for surfers, ideal for riding waves or simply for swimming. Thanks to its size, the beach is never crowded, despite the high number of visitors. The beach is equipped with showers, toilets and restaurants, so even a longer stay should not be a problem.
Agua de Alto beach on Sao Miguel is less known to tourists and is considered rather small in size. It is a small bay with white sand and a paradise for tourists who want to spend their leisure time far away from the hustle and bustle. It is an ideal place for those who want to relax and enjoy a quiet and relaxing holiday.
Beach on Terceira – Silveira

This bathing area on the island of Terceira is mainly frequented by locals. It is located a little away from the town of Angra do Heroismo and is an artificially created beach that fits in very well with the natural surroundings. White concrete blocks allow easy access to the sea. The waters of the Atlantic appear turquoise and green near the coast, while away from the coast they are deep blue.
Stand Formosa – Santa Maria
The beaches and coves of the island of Santa Maria differ considerably from most of the black volcanic beaches found in the Azores. On this island there are several beaches characterised by clear blue water and white sand, which are wide enough to accommodate many holidaymakers who are there to witness this amazing spectacle of nature.
A great experience is to admire the beach of Formosa from above, possible from the Miradouro da Macela. It's a great view that you wouldn't want to miss.
Faja Grande beach on the island of Flores
The island of Flores is so remote that rare animal species have settled there and feel perfectly at home. The Faja Grande beach on this island is an eye-catcher, nestled between volcanic rocks and green hills behind it and the turquoise water found there.
The beach is mainly used by locals and water sports enthusiasts. It is an ideal region for divers to discover the enchanting and fascinating underwater world.
Villa Franca Beach on Sao Miguel

The best and most interesting thing in this region and on this island is the nature reserve that is located in a half-sunken crater on the extinct volcano. There it is possible to see marine species of all kinds, including colourful tropical fish. Snorkelling around the small island of the same name, Villa Franca, by boat is exceptional. The water is unique, with breathtaking beauty as the abysses of the volcano disappear into the depths of the sea.
Caldeira do Santo Cristo Beach (Sao Jorge)

The beach with its fajas is breathtaking. Fajas are small stretches of coastline that have been formed over time by lava shifts. These features, consisting of numerous small swamps and volcanic lakes, visually absorb the sea and can be seen as extended volcanic slopes. In this area there are numerous stretches full of blooming hydrangeas and numerous fragrant flowers, rushing streams and waterfalls, swamps and viewpoints. A true paradise for nature lovers and those seeking relaxation.
Once you have reached the beach, surfing enthusiasts will be in their element. There are numerous surf houses for all those who prefer this water sport.
A long beach consisting of pebbles, dark rocks and a deep blue sea and everyone who has found their way there is delighted.
Biscoito Beach (Terceira)

A great beach with one of the most beautiful natural swimming pool formations on this island. This is by no means just a few natural pools, but a whole collection of places where you can swim in the sea and immediately be protected from its wildness. The black rocks are surrounded by wooden platforms for sunbathers and metal ladders to help bathers descend into the Atlantic.
This beach is perfect for diving and swimming in peace and quiet amidst architectural wonders. There you will find rock arches resembling bridges, as well as numerous rocks jutting out of the sea in all shapes and sizes.
Not to mention, these natural pools are the ideal places for diving and swimming. Volcanic rocks protect against strong currents even in rough seas and provide peace and security for divers and snorkellers present.
Ribeira Quente Beach (Sao Miguel)

If there is one drawback to all these great beaches, it is the freezing cold temperatures of the Atlantic. The only notable exception is Ribeira Quente beach on the island of Sao Miguel. Thanks to the thermal springs found there, the water of these bathing bays is warm everywhere, in some cases even fire-hot. Hence the name Praia do Fogo, which translates as Fire Beach. Not only are the water temperatures pleasantly warm, but you are surrounded by a fantastic panorama of turquoise-green sea water, which is a reflection of the surrounding mountains.